Calma and Tempo by Sanycces
These are the signature bathtubs that seal Jorge Herrera's first collaboration with the Spanish company
Tempo by Sanycces.
Calma by Sanycces.
Calma by Sanycces.
Calma by Sanycces.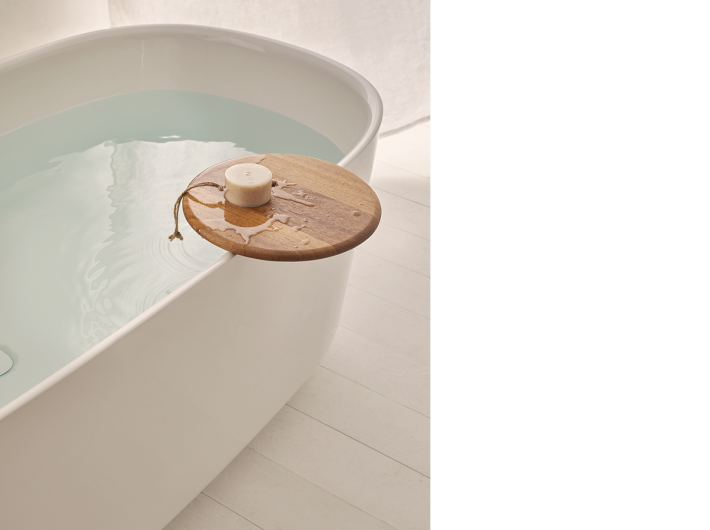 Calma by Sanycces.
Tempo by Sanycces.
Tempo by Sanycces.
Tempo by Sanycces.
Calma and Tempo are born hand in hand. Conceived under the same creative process, that of designer Jorge Herrera, and the same Mediterranean halo, these two signature bathtubs that make up the new Sanycces collection nevertheless look towards different destinations. That of functionality guides Tempo, with a geometry that, without reaching the point of transgression, does border on the differential.
Meanwhile, purity with a touch of Zen prevails in the case of Calma, with its idiosyncratic concave and totally enveloping shape. Calma and Tempo fit in with the new meaning that bathtubs are acquiring in today's world. In this slow movement, of using them for those places where you want to have and control your own time. Along with this premise, the triple starting point for this first collaboration between Sanycces and Jorge Herrera was clear. A simple product, with depth of accessories and blending in with the environment. These were the only guidelines given by the firm to the Valencia-based designer from the Canary Islands to start creating. From there, Herrera began to build, polishing the concept of the Mediterranean inherent to
Sanycces, until he bifurcated his original idea and arrived at these two models of bathtub with which the company based in Burriana (Castellón), makes a qualitative leap in the design aspect and reformulates the way of seeing, and living, the world of the bathroom. The process has been cooperative. A combination of "freedom, trust and connection" in which the sensation, says Herrera, of "being in the same boat" has prevailed. "The challenge was to naturalise the product without renouncing the Mediterranean, introducing materials such as fabric and wood. We dive into classic Japanese bathrooms, tea ceremonies, car interiors, looking for nice, pleasant shapes...".
With all these different worlds, ideas and sketches began to emerge. "From there we sifted through them and saw that there were two paths to define, which ended up being Calma and Tempo". These are the signature bathtubs of the new Sanycces collection under the Jorge Herrera label, with which the firm reaches the design elite.