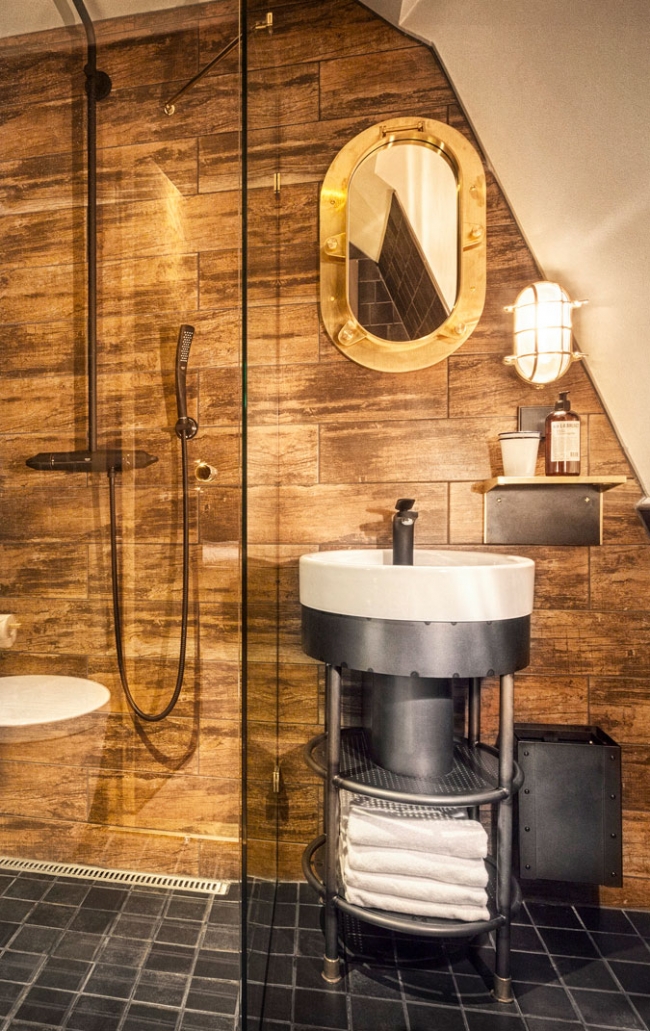 Project name:
Stora Hotellet Umeå, Sweden.
Photographer:
Archives Kriskadecor.
Interior design:
Stylt Trampoli AB.
Västra Hamngatan 11 SE-411 17 Göteborg, Sweden
Web:
www.stylt.se
Stora Hotellet
The stranded fishing boat.
The Stora Hotellet in Umeå, Sweden, reproduces in its multi-coloured and dramatic bathrooms interiors, the bygone atmosphere of the shipyards and ships of ancient times as a tribute to the living history of this fishing village.
This project has been performed by Studio Stylt trampoline AB, founded in 1991 by Erik Nissen, a Norwegian visionary and artist with a great passion for creativity. Since then his practice has grown non-stop and now employs more than 50 people, including artists and designers, architects, interior designers, engineers, art directors, etc... From its headquarters in Gothenburg, Sweden, Stylt tackles projects anywhere in Scandinavia and beyond. The broad portfolio includes, among other completed projects, more than 400 restaurants and close to 250 hotels.
Stora Hotellet in Umea, in Sweden, is only an example of his high level of performance. The hotel was recognized with the award for the best Boutique Hotel in the world at the World Boutique Hotel Awards. Inspired by the naval heritage of the town founded in 1895, the refurbishment plan dictated a clear and elegant play of contrasts, between luxury and the simplicity of seamen.
The project surprises because of the concreteness of its aesthetic proposal, inspired on the fishing boats of the Swedish town of Umeå. The naval features linked to the town´s history are already clearly present in the lobby and at the reception desk, where multi-coloured Kriskadecor curtains with colour tones that evoke the sea build the principal decoration. In addition, the Panot Gaudi collection from Escofet has been used for the flooring of these areas. A floor, reissued in 1997, after the original patchwork of a hydraulic mosaics pattern of Antonio Gaudí also including references to the sea in figures in bas-relief such as starfish, shells and algae.
The rooms, although more orderly patterned than the common areas of the hotel, also retrieve 19th century aesthetics, but with a variety of allusions to modernity, such as the use of wallpaper trapping over a classic header. The vintage style is especially established in the bathroom areas, where vintage design objects enhance the style of the bedroom settings. The basins are mounted on raw unpolished steel furniture, whilst bevelled and patchy tiles refer to ancient times. Gold plated brass tap fittings also refer to a glorious past where gold was a symbol of wealth and power.
The walls of the bathrooms are deliberately dark to mitigate the effects of electrical lighting and obtain a warmer and more friendly atmosphere. The rounded shapes from the Duravit sanitaryware, designed by Philippe Starck, are perfectly integrated in this universe of the 19th century.