Noken presents exclusive new products creating the latest trends in bathroom design
The firm of the Porcelanosa Group cherishes the smallest detail in all its collections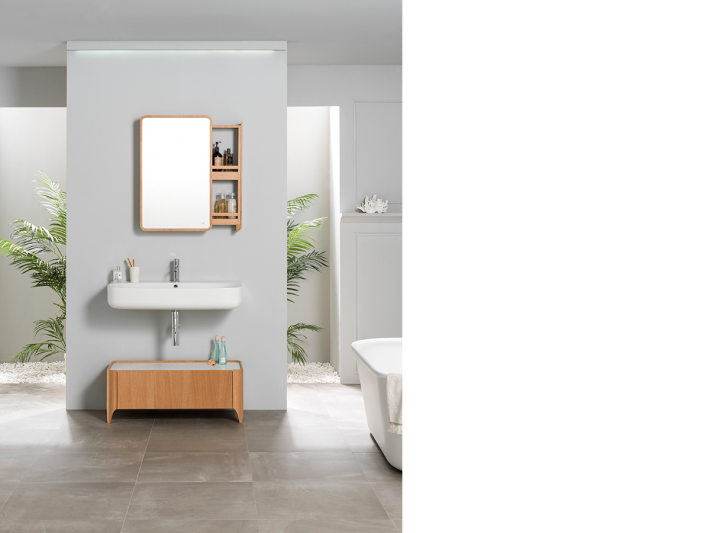 Nature, Noken.
Nature Collection, Noken.
Nature Collection, Noken, Porcelanosa Group.
Project Tech, Noken.
Tono by Noken.
Vitae Collection, Noken, Porcelanosa Group.
Vitae, Noken.
Noken, a brand of the Spanish giant Porcelanosa Group, once again surprises with innovating stylish and sophisticated collections, exuding freshness and modernity, such as the stunning Nature series or the innovating Project Tech concept, complementing its flagship collections Vitae, designed by late Zaha Hadid, and Tono, a fully integrated design concept created by the prestigious London based architectural studio Foster+Partners.
The sophisticated Nature collection, composed by a vanity unit and matching mirror arrangement, reflects strong Nordic influences, and has been inspired by the purity of natural oak. A bathroom furniture set featuring soft lines and rounded edges, manufactured entirely in natural oak wood veneer and which key attraction is the cabinet positioned behind the side wall of the mirror, creating an additional storage capacity, increasing generously storage already provided by the large drawer unit and connecting top surface. The technological innovative Project Tech worktops are adaptable to every kind of bathroom space. A consistent and continuous investment in R+D has resulted in achieving a unique soft touch texture, a highly innovating feature, because it allows surface scratches to be repaired by applying heat on to the damaged area. The combination of a minimalistic design and the qualitative benefits of the product unveil a unique and innovative bathroom concept.
The Vitae collection, treasuring incomparable designs, incorporates a new 65cm wash basin following the same language, inspired on natural elements, consistent to the other pieces of the collection. The new wash basin allows a symmetric and compact double wash stand setup, adding great aesthetic value to the bathroom, while upholding the essence and spirit of the Vitae collection. This latest addition continues the author´s intention to evoke the flow of water. The approach and design concept of the piece keeps the waste system completely concealed and invisible, obtaining a more clean and sleek visual result. A ceramic waste cover is the finishing touch and provides design consistency in line with the other white elements and components, creating a fluid and apparently seamless composition.
Last but not least, the Tono collection also extends its product family, with a drop-in bath tub and a double bowled basin version with overflow arrangement and ceramic waste cover. The basin is manufactured in high quality ceramics Noken Ceramic®, adding quality and design features to the piece, following all guidelines marked by the prestigious team of Foster+Partners. The series is completed with new formats proposing a variety of rich design solutions to suit any kind of mood settings and environments. The highlight of the new bath tub edition is the elegant and highly practical integrated shelf feature. Manufactured in premium quality acrylic, the latest bath tub collection of the Spanish noken brand, will be available in a range of dimensions, to adapt to different dimensional spaces and design configurations.