ISH 2019: The number of international participants climbs to record levels
Sala Baño advances some of the most striking innovations presented by the bathroom sector at the German leading exhibition
ISH 2019.
Steel by Alape.
Viu with XViu collection by Duravit.
Antonio Lupi: Reflex bathtub.
Cartesio by ArtCeram, Design Plus Award 2019.
Axor Edge.
Pond bathtub by Bette.
Frame by Bossini.
Cosmic presents Architect S+ at ISH 2019.
Allure Brilliant Icon 3D by Grohe
Viva by Duscholux.
Dornbracht: Aquamoon ATT.
Woodio washbasin
Roll by Ever.
Hifi by Gessi.
Scenic by Glass.
RainTunes by Hansgrohe.
Beyond collection and Cratos shower tray by Roca.
Giro by Inbani.
Nexsys by Kaldewei.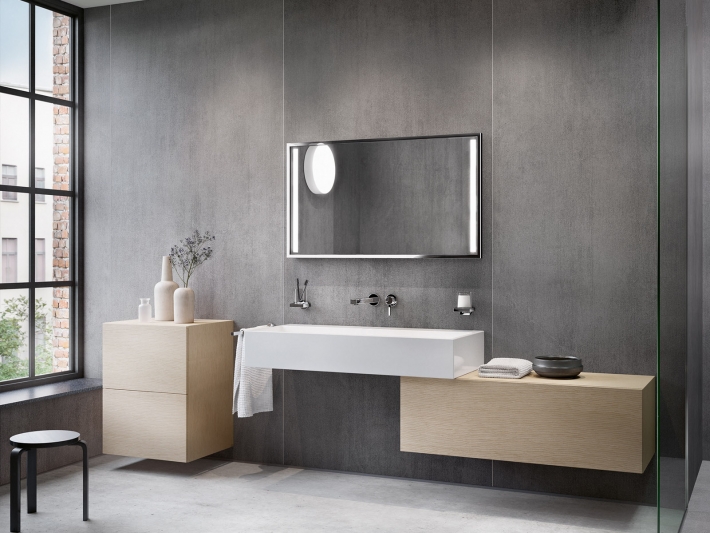 Edition900 by Keuco.
The New Classic designed by Marcel Wanders for Laufen.
Equilibrium by Pom D'or.
Tzar by Ramon Soler.
Veil by Scarabeo.
Dot316 by Ritmonio.
New Floating bathtub by Toto.
Concept3 by Nofer.
Natural Series by Bathco.
Taizu bathtub by Victoria+Albert.
GoOn by Royo.
Ipalyss by Ideal Standard
Collaro by Villeroy & Boch.
Select+ by Hüppe.
Synergy by Fiora.
Hansa Emotion Wlefit
Hygea by Usspa.
Nikko by Zucchetti.
ISH 2019, the fair of international reference in the sector of bathroom equipment and installation, energy and air conditioning has shown incredible innovations that have been presented by prestigious firms of international reputation generating great expectations. From 11 to 15 March 2019, the fairgrounds of Frankfurt am Main, in Germany, has served as a showcase for innumerable and original bathroom solutions. ISH once again gave an impressive demonstration of its importance for international visitors and exhibitors and how it connects all international players from the sector.
The ISH event is being consolidated editions after editions and confirms the satisfaction of exhibitors and visitors from around the world. From 11 to 15 March, 190 thousand visitors (in 2017, there were 198,810 visitors) from 161 countries (in 2017, there were 153) made their way to the Frankfurt Fair and Exhibition Centre to discover the latest innovations and trends at ISH 2019. Throughout these five days, a total of 2,532 exhibitors (868 from Germany and 1,664 from abroad) from 57 countries have presented their new products for the first time in Frankfurt am Main. At the same time, ISH has significantly increased its global relevance, thanks to the considerable increase of its internationalization: 66% (2017: 64%) of the exhibitors and approximately 48% (2017: 40%) of the visitors coming from outside Germany.
Our magazine Sala Baño has been once again present at the German based leading event to see and learn first-hand about the latest proposals from the firms in the bathroom sector. We invite you to have a look at our teaser and get a flavour of the most important product innovations and trends. In the next edition of the magazine, our issue 204, we will enhance this first information round with a dedicated special ISH report. The next edition of ISH will be held from 22 to 26 March 2021 in Frankfurt am Main