Idéo Bain Paris shows the latest trends and innovations in the bathroom sector
The most important fair for bathroom equipment in French territory has regarded the participation of well-established Spanish brands
IdéoBain Paris 2017.
Nuovvo, IdéoBain Paris.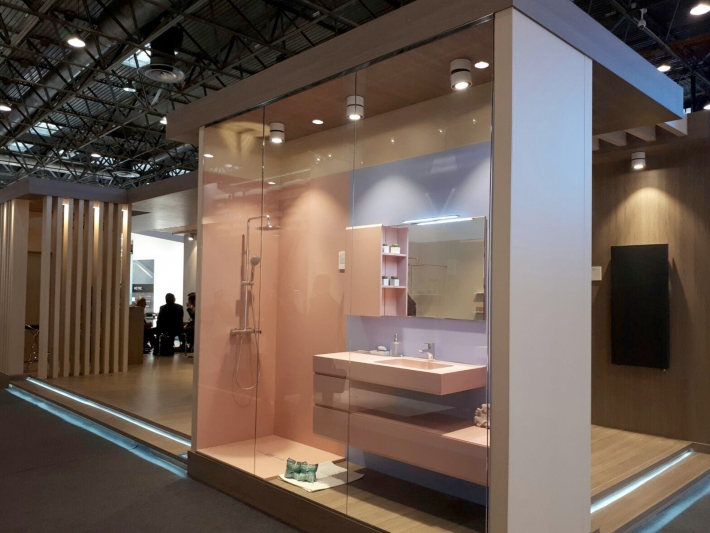 Fiora, IdéoBain Paris.
Idéo Bain Paris has gathered in its latest edition, that was celebrated from November 6th to 10th 2017, an array of relevant national and international brands of the bathroom equipment sector. The Spanish association amec-ascon has been the engine behind leading the organisation of the participation of a selection of well-established Spanish brands and companies related to the construction industry. The French event is nowadays a reference meeting point, that brings together three major fairs under one roof: Batimat, Interclima + ElecHB and Idéo Bain. Because of this joint concept, visitors to the fairground obtain a global and complete vision of the brands and products that are leading the sector.
In the previous edition, in 2015, a total of 338,110 professionals attented the event, of which a striking 21% were international visitors. In regards to the exhibitors, from a total amount of 2,436 participating companies, 51% came from outside France to showcase their products in Paris. The previous record figures will stay behind, once the 2017 edition figures are made public. The organization is confident and expects to have increased this year forgoing results. During the event, the most innovative solutions were presented, in an effort to combine energy efficiency, new trends and the comfort of smart homes and buildings.
The Parisian event has evolved in becoming an excellent opportunity to learn first hand about the latest trends in product design and important technological innovations. Among the Spanish firms at the Exhibition, the following brands showcased their latest novelties and could be visited; Profiltek, Acquabella, Doccia, Nuovvo, GME, Resiblock, Duplach, Hidronatur by Plasvina, MCBath, Hidrobox by Absara, Nofer and Salgar. Moreover, an important attendance of further leading international brands in the bathroom sector including Spanish giant Roca, German brands Grohe and Duravit, Geberit, Vitra, Jacob Delafon, etcetera has taken Ideo Bain to a striking performance level.